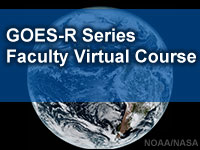 Description
This webinar series provides an introduction to the new capabilities offered by the latest-generation GOES-R series weather satellites. The COMET® Program in partnership with NOAA NESDIS and the GOES-R Satellite Program Office offered the inaugural course as a series of seven webinar sessions in fall 2017. The sessions focus on the capabilities and applications of the GOES-R satellite series. This first satellite in the series, GOES-R, was launched in November 2016 and became GOES-16 once reaching orbit. The live webinar offerings have been produced as a series of recorded webinars and provide the learner with the opportunity to hear from key experts in the field to foster discussion and interaction between experts, educators, students, and satellite users. The information presented builds on existing online resources available on the MetEd website and elsewhere to provide university faculty and others with a solid basis for using GOES-R/16 data in coursework and student research projects. By introducing faculty and students to these new data sources, we hope to build a knowledge base in satellite topics and inspire the next generation of atmospheric scientists.

For more information about the topics and instructors, see the course page at http://courses.comet.ucar.edu/course/view.php?id=187.
The webinar series contains seven topic areas listed below. Completing all seven sessions and the accompanying quizzes will allow to you obtain a Certificate of Completion for the course.

Goals and Objectives
Outline the data, products, and applications of the GOES-R series weather satellites.

Develop a community of GOES-R/16 users to foster productive discussion and interaction.

Inspire research projects and operational uses of GOES-R/16 information among educators, students, and scientists.

Describe and interpret GOES-R/16 products in seven different subtopic areas of atmospheric sciences and instrumentation:

4.1 ABI: describe the spatial and temporal resolution improvements available through the Advanced Baseline Imager (ABI)

4.2 Tropical Cyclones: describe new capabilities for real-time tropical cyclone analysis and monitoring

4.3 Severe Storms: describe the changes to satellite product resolution, frequency, and latency and how those benefit severe weather analysis and forecasts, including both the pre-storm and storm environments

4.4 Rapid Scan: describe the attributes of rapid scan data sectors, including their size and data frequency, and which phenomena rapid scan data could be most useful for detection and forecasting

4.5 Aviation: describe at least four types of aviation hazards, other than convective storms, that are better detected by GOES-R/16 than by previous geostationary satellites

4.6 GLM: describe important characteristics of Geostationary Light Mapper (GLM) data including what type of lightning it detects, the product latency, and what the detection rate is; give an example of how it can benefit research and operations

4.7

RGB Composites: describe the development and uses of multispectral, or red-green-blue (RGB) composites
Overview
Course Outline