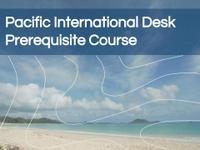 Description
This course represents the prerequisite training for enrollment in the Pacific International Desk Level 2 residence program in Honolulu. Candidates must complete all required lessons in this course before arriving for the program.
This intermediate level study of tropical meteorology builds on the Level 1 program, and focuses on data interpretation and forecasting techniques.
Participation in the Pacific Desk programs is by invitation only. More information is available on the Pacific International Training Desk website.
Goals and Objectives
Overview
Course Outline
Additional Resources