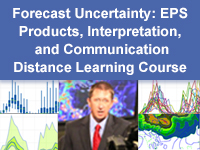 Description
This distance learning course is designed for operational forecasters although meteorology students and other interested users can benefit from it as well. It aims to improve forecasters' understanding of common ensemble prediction system (EPS) products so they can use probabilistic information in the forecast process and provide uncertainty information to end users.
The lessons can be taken in any order. However, it is recommended that users begin with Introduction to EPS Theory, which teaches the concepts needed to understand EPS products. It lays the foundation for the EPS Product Reference Guide, which describes the following EPS products: mean and spread, box and whisker EPSgrams, shaded percentile EPSgrams, spaghetti maps, ensemble trajectories, plumes, probability of exceedance/occurrence, extreme forecast index (EFI) and shift of tails (SOT), and climatological percentiles. The Guide is optional, and users can access the products of interest to them in any order. It does not have a quiz.
The Guide supports two communication lessons and the culminating EPS Case Studies lesson. Communicating Forecast Uncertainty (required) is a comprehensive, scenario-based lesson that discusses research findings on the effective communication of uncertainty information and provides opportunities for learners to apply the findings to a North American case. Its follow-on Communicating Forecast Uncertainty, European Case lesson is optional and intended for those who want to apply the findings to a European winter weather case.
The culminating EPS Case Studies lesson (to be published in 2018) will provide additional opportunities to use EPS products to forecast different types of weather phenomena in North America and Europe and communicate with various end users.
To receive a course completion certificate, you must successfully complete the Introduction to EPS Theory and Communicating Forecast Uncertainty lessons. The EPS Products Reference Guide and the Communicating Forecast Uncertainty, European Case are optional.
Goals and Objectives
Differentiate probabilistic from deterministic forecasts

Describe the basic approach to generating EPS products

Describe basic statistical quantities and methods used to develop EPS products

Describe common EPS products

Interpret common EPS products

Describe the benefits of providing uncertainty information to end users and ways of communicating it effectively

Integrate EPS products into the forecast process

Tailor communication of forecast uncertainty to end users' needs and backgrounds
Overview
Course Outline
Additional Resources