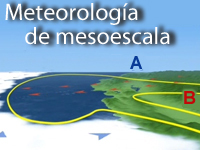 Description
El Manual de meteorología de mesoescala es un programa didáctico de formación a distancia basado en internet diseñado para mejorar la comprensión de los fenómenos meteorológicos de mesoescala y la capacidad de pronosticarlos. El manual es una colección de módulos que presentan el material con streaming de audio, animaciones conceptuales e interacciones frecuentes. Los módulos son de dos tipos: modelos conceptuales "fundamentales" que describen procesos físicos elementales y herramientas de pronóstico básicas, y módulos más largos, centrados en un determinado fenómeno meteorológico de mesoescala. Estos últimos presentan un escenario de pronóstico realista con interacciones y un examen final.
Este programa fue concebido originalmente por los instructores de la Armada de EE.UU. y la Escuela Naval de Postgrado (Naval Postgraduate School, NPS), pero también participaron en su creación los meteorólogos y desarrolladores de materiales multimedia de The COMET Program y la Agencia Meteorológica de la Fuerza Aérea (Air Force Weather Agency) de los Estados Unidos.
Goals and Objectives
El objetivo del Manual de meteorología de mesoescala es: Fomentar la comprensión de los fenómenos meteorológicos de mesoescala a nivel conceptual. Mejorar los pronósticos ilustrando los beneficios y las desventajas de la nueva generación de modelos de predicción numérica del tiempo y recursos de teledetección.
Overview
Course Outline
Additional Resources
Encontrará otra forma de ver estos y otros módulos relacionados con la meteorología de mesoescala en esta dirección de MetEd. Este portal en inglés permite agrupar los módulos por fenómeno o riesgo meteorológico. Tenga en cuenta que muchos de los módulos que se incluyen en este recurso también están disponibles en español, por lo que recomendamos hacer una búsqueda en MetEd.