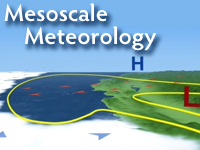 Description
The Mesoscale Meteorology Primer is a Web-based distance learning curriculum designed to improve understanding and forecasting of mesoscale weather phenomena. The primer is collection of modules that use streaming audio, conceptual animations, and frequent interactions. The modules fall into two types: short conceptual Foundation Topics describing basic physical processes and forecasting tools, and longer modules that address specific mesoscale weather phenomena. These longer modules present a realistic forecast scenario, interactions, and a final exam.
Originally conceived by instructors in the U.S. Navy and Naval Postgraduate School (NPS), the participants also include meteorologists and multimedia developers from the COMET Program and the Air Force Weather Agency.
Goals and Objectives
"
Course Goal
The goal of the Mesoscale Meteorology Primer is to:
Foster a conceptual understanding of mesoscale weather phenomena.
Improve forecasting by illustrating the benefits and drawbacks of the new generation of numerical weather prediction models and remote sensing assets.
Overview
Course Outline
Additional Resources
An alternative listing of modules that relate to mesoscale meteorology is available on MetEd here. IT provides a means of sorting modules based on mesoscale phenomena or weather hazard.