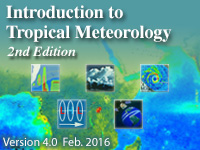 Description
This distance learning course provides students and operational meteorologists with a better understanding of the meteorological processes in the tropics. It also aims to stimulate future research focused on forecasting problems in the tropics. The course uses COMET's Introduction to Tropical Meteorology, 2nd Edition online textbook which provides an introduction to the atmospheric processes in the tropics and recent developments in the field of tropical meteorology. Optional, special topics lessons are included and will be added to as new lessons are published.
For instructors interested in offering a tropical synoptic meteorology course, a syllabus and resources are available for reuse here: Tropical Synoptic Meteorology Curriculum Package
Goals and Objectives
Course Goal
The goal of this course is to introduce forecasters and other learners to the following:
Atmospheric circulation in the tropics
Tropical weather features such as tropical cyclones, monsoons, easterly waves etc.
Major cycles dominating intraseasonal and interannual tropical variability
Course Objectives
The instructional objectives for this course provide a review of the following core concepts:
Overview of energy balance and the global climate system
Remote sensing of weather and climate across the global tropics
Overview of general principles of atmospheric motion and global circlulation
Tropical variability with an overview of cyclical patterns and intraseasonal and interannual variability
Distribution of moisture and precipitation across the tropics
Vertical transport of heat, moisture, momentum and diurnal and seasonal variations in surface fluxes and boundary depth
Synpotic and mesoscale systems
Tropical cyclone development, intensity, and extratropical transition
Challenges in tropical weather observation, analysis, and prediction
Target Audience
The target audience includes undergraduate students and meteorologists who have completed introductory meteorology and who know basic thermodynamic and dynamic meteorology.
Prerequisite Knowledge
The online textbook assumes that learners have a familiarity with the basic theories of meteorology. Accordingly, the textbook will assume exposure to and some familiarity with the following concepts:
Structure of the atmosphere, ranges of surface pressure and temperature
Basic understanding of energy and radiation
The basics of atmospheric thermodynamics
The laws of motion
The general circulation of the atmosphere and oceans
Weather analysis and forecasting
Basic knowledge of remote sensing using satellites and radar
For students wishing to explore theoretical derivations, familiarity with differential calculus is recommended.
Overview
Course Outline
Additional Resources