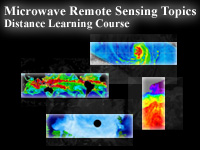 Description
This self-paced distance learning course provides forecasters, students, researchers, developers, and other interested learners with a foundation in the science, products, and applications of space-based satellite microwave remote sensing.
The three core modules that comprise this course are:
Microwave Remote Sensing: Applications for Water Vapor, Clouds and Precipitation
Microwave Remote Sensing: Land and Ocean Surface
Advances in Microwave Remote Sensing: Ocean Wind Speed and Direction
Goals and Objectives
Course Goals
The goals of the microwave remote sensing topics course are to:
provide learners with knowledge of basic scientific concepts underlying microwave remote sensing of Earth's surface and atmosphere, and
improve application and interpretation of microwave observations and products in everyday meteorological and environmental monitoring and forecasting activities.
Course Objectives
Describe how microwave remote sensing compliments visible and infrared observations
Describe the general spatial and temporal coverage characteristics of microwave observations from polar-orbiting satellites
List several products that rely on microwave remote sensing
Explain the fundamental difference between active versus passive remote sensing
Describe the importance and impact of microwave observations on numerical weather prediction models
State the key differences between microwave and radiosonde sounding of atmospheric temperature and moisture
Be able to interpret total precipitable water, cloud liquid water, and precipitation products as presented in the case examples
Describe the benefits of microwave remote sensing for observing various surface properties when compared to visible and infrared approaches
Describe the key application areas and users that benefit from characterization of snow cover, sea ice, sea surface temperature, and surface wetness and soil moisture
Describe the limitations common to the retrieval of surface properties
Overview
The microwave remote sensing topics course is a series of several modules that is aimed at forecasters, students, researchers, and developers who have either a need or desire to know more about basic microwave remote sensing science and applications. The course is intended to provide an understanding of basic microwave remote sensing principles and concepts, spacecraft and instrument configurations, applications, and available datasets. It will prepare the learner for future exploration and use of microwave observations in meteorological analysis and forecasting, and monitoring of the climate and environment.
This course consists of an overview module, three core topic modules, one science resources module, and two additional modules each exploring a more focused application area and including operational considerations.
To receive a course completion certificate, you must successfully complete at a minimum the three core modules which take about 4 to 6 hours to complete.
The total time to complete the entire course including optional portions is approximately 8 to 9 hours.
Course Outline
Additional Resources