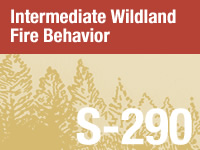 Description
Intermediate Wildland Fire Behavior, S-290 is the second course in a five course sequence developing wildland fire behavior prediction skills and knowledge. In the Wildland Fire Qualifications System Guide, PMS 310-1, this course is required of those planning to work as one of the Single Resource Bosses or a Fire Effects Monitor on wildfires, fire use fires, and prescribed fires. It builds upon the basics in S-190, Introduction to Wildland Fire Behavior, but with more detailed information about characteristics and interactions of the wildland fire environment (fuels, weather, and topography) that affect wildland fire behavior for safety purposes.
Goals and Objectives
Course Goal
The goal of this is course is to provide a better basis for analyzing fire environment variables and understanding how they interact and affect wildland fire behavior for firefighter safety.
Course Objectives
Identify and describe the characteristics of fuels, weather, and topography that influence wildland fire behavior.
Describe the interaction of fuels, weather, and topography on wildland fire behavior, fireline tactics, and safety.
Describe the causes of extreme wildland fire behavior (long-range spotting, crowning, and fire whirls) developing due to fuels, weather, and/or topography.
Interpret, apply, and document wildland fire behavior and weather information.
Overview
This course is an online version of the classroom course developed by the National Wildfire Coordinating Group (NWCG) and can be completed in approximately fifteen hours. The course is broken into thirteen individual units that consist of an introduction and twelve unit topics.
Course Certificate
Once you have completed Units 1 through 11, you can access a Course Certificate by logging into the MetEd registration system.
After logging in, click on the "My MetEd" tab. Click on the "Completed" tab in the "Courses" section. You will see the button to access your certificate. In order to view your quiz results, click on the "Quiz Scores" tab in the "Modules" section. There are two blank text boxes on the certificate in which you can add the course administrator and your home unit. Once you type in these fields, you can print out the certificate. More information on the course administrator role can be found on pages 5 and 10 of the Field Manager's Course Guide.
Note to wildfire firefighter personnel taking this course to fulfill NWCG training requirements:
To receive credit from the NWCG for completing this course, do not attempt this training unless you have been directed to do so by a wildland fire agency or fire department, and you are working with a course administrator.
The NWCG will only acknowledge completion of this course by those who are affiliated with an NWCG member agency (through direct membership or agreement) or a member of a fire department. If you are part of a local governmental agency or if unsure of your affiliation, please contact your State Forestry office to request their "sponsorship" for NWCG training.
MetEd Registration & Assessment Information
To access the modules and track your progress in completing course units, you'll need to register on the COMET MetEd Registration & Assessment website. Registration provides you with a record of your end-of-unit quiz scores. These scores are tracked on your personal MetEd Record page. As you complete a quiz, your results will be e-mailed to you and, at your direction, to a supervisor or other instructor with whom you would like to share your quiz scores. Each passing quiz score earns a Certificate of Completion for that unit. Completing all the mandatory units in the course will provide you access to a Course Completion Certificate.
Some notes regarding the quizzes: All quizzes in the course consist of a series of multiple-choice, true/false, completion, and matching questions. Depending on the quiz, a score of 70% or higher leads to a passing mark that is tracked in the registration system if you are logged in when starting the quiz. The quiz can be retaken until a passing score is achieved.
Wildfire Firefighter Personnel: Enter your supervisor's or course administrator's email address when registering, and select the check box giving permission to share your scores with your NWCG affiliated agency.
Course Outline